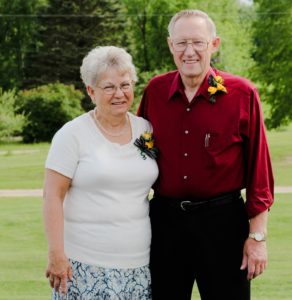 Floyd and Sharlene Fair have been a very instrumental part in Fair Salvage celebrating its thirty years of being in business. When their son, Steve came to them when he was twenty-two years old with the idea of beginning a scrap recycling business, they came alongside him and helped him start Fair Salvage Company. They saw the great potential in their son and his idea, and jumped in to help him out with the business.
Through the years that followed, Floyd and Sharlene have helped out wherever necessary, including directing traffic, and working with the scrap metal coming into the yard. Sharlene also played a huge role in the office by waiting on customers, doing paperwork, and managing the company's finances. They both have always been there to greet customers and help out however they can.
Over time Fair Salvage has gone through years of struggle, but also many years of success. But if it had not be for his parents, Floyd and Sharlene Fair, Steve shares that he wouldn't be where he is today or have survived the up-and-down business without their help. He isn't sure that he would have bet on himself at the age of twenty-two, but it is the power of his parents to see the potential in their children that saw him through.
Steve and the crew at Fair Salvage & Fair Waste Services would like to say thank you very much to Floyd and Sharlene Fair for all they have done over the past thirty years!