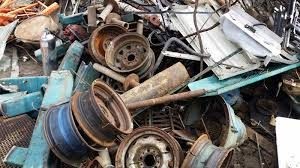 The best piece of advice when bringing any metal in to sell to Fair Salvage is to keep similar items together. Try not to throw all of your material in a trailer together when for example you have a combination of sheet iron and aluminum siding. By keeping similar metals grouped together (in a tub, bin, box or other container) it helps us to be able to point out what you can do with each item to make you more money. Having your metals separated prior to arriving at the yard will save you time as well.
If you decide not to sort your items prior to arriving, or don't want to take the time to separate them out, then your scrap will be classified by the least valuable metal in the load. Even if you have a mixed load of copper wire for example, you really need to sort it all out based on each grade of copper to maximize your return. The price difference between Copper #1 and House Wire can be as much as 50 percent, so you can see the need to do a little sorting to receive the most for your load – it adds up!
Another way to maximize your return is to check out FairSalvage.com prices on the same day you are planning on bringing in your metals. Prices can change daily – occasionally more than once per day – so it's best to see what you'll get before you start to drive to the scrap yard.

The best way to avoid any confusion is to give your local Chase, Clare or Montcalm Fair Salvage location a call with any questions you have. We'll be more than happy to help give you some pointers of how to sort your materials correctly and to your advantage. Fair buys mixed metals if you do not want to sort it, but the most money in your pocket is by having metals separated out into specific grades. Hope this helps with your next trip to Fair Salvage!